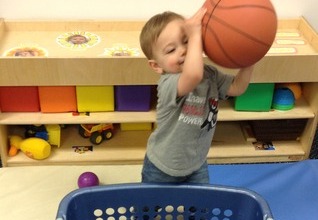 What Families Are Saying
Many of our families have taken the time to share their honest thoughts on every aspect of the Tutor Time experience. The following are reviews of Tutor Time from families just like yours. For even more reviews, we recommend you check out independent forums like Google and
Yelp
.
"Finding a daycare was very hard for us until we found Tutor Time. We have two girls, ages 22 months and 5, who had never been in daycare or even had many babysitters. The staff is amazing - not only with our girls but with us. They have made sure that we all are happy and adjusting to this new change for our family. The longer we are part of The Tutor Time family, the better it gets. Thank you so much, Tutor Time, and keep up the great work!"
Melissa
Lakeville
"I have really enjoyed everything that Tutor Time has to offer to my young children. They are always learning something new every day and have really enjoyed going every day. The teachers are so warm and welcoming and helpful with drop off. We always feel welcomed when we enter in the morning."
Domonic
Lakeville
"We have been impressed with the school, staff and excellent curriculum offered. It is a clean, safe, fun, and friendly environment. Our daughter has learned so much since she started going there. It has been a great comfort to us knowing our child is safe and well cared for while we are working."
Jen D
Lakeville
"My husband and I have been so impressed with the professionalism of the management and staff. Our son comes home so excited to share what he has learned each day. We have seen him grow immensely during the past year he has been there. Thank you, Lakeville Tutor Time!"
Anonymous
Lakeville
"We have been attending Tutor Time for a while now and we feel very welcomed each day by everyone, and the love that the teachers make drop off so much easier in the morning. I love all the updates from the mobile app that I get throughout the day."
S
Lakeville
"Finding a center is always hard because you want what is best for your kids. We knew the minute we walked into Lakeville that it was going to be the right fit. Everyone was so welcoming to my family. Our favorite was when the teachers got down to my daughter's level to talk with her."
Anonymous
Lakeville
"Our son Alex has been going to Tutor Time for about a year and a half now and everything has been great. I really enjoy getting updates about what he is doing there on my phone using the mobile app. The staff is very polite and helpful and it makes me glad to know he is learning every day."
Jose V
Lakeville
"We are so thankful for a loving teacher for Annie. Mrs. Lacey is friendly, caring and organized. She works hard to meet the children's needs and [creates] lesson plans for their developmental levels. Thank you, Mrs. Lacey!"
Kayla C
Lakeville
"I have been sending my two children to Tutor Time since we moved to Lakeville 6 years ago. They have been nothing but good to my kids. The most important thing about childcare in my mind is that they love your child. Both my kids have connected and made lifetime friends with the staff."
Sarah L
Lakeville
"Tutor Time is amazing. We had a bad experience with a home daycare and we were looking for a place we could send our little one and feel comfortable. The staff at Tutor Time has been thoughtful, caring and understanding of our wishes. "
Gregg N
Lakeville
"We couldn't be happier with the level of care, educational growth and fun playtime activities she receives on a daily basis. In the beginning, I was very reluctant to leave my daughter with anyone when she was an infant, but once we met the staff I felt completely at ease. "
Brandi C
Lakeville
"Tutor Time has excellent staff and curriculum! All of the teachers are incredibly sweet and seem to really enjoy spending time with the children and watching them learn. I can always talk to them about concerns and hear feedback on successes. Plus, they have an amazing app for my phone so I get updates."
Devyn B
Lakeville
"Ms. Kim has been very supportive and patient with our son, Graham. Graham likes school and will teach us new songs or things he has learned. Ms. Kim is kind and caring for all the students. Thank you, Ms. Kim, for your hard work!"
Kayla C
Lakeville
"Mr. Andre has been a spectacular addition to the Tutor Time staff. He has brought a structured lesson plan to the classroom that has prepared Olivia for school and beyond. I am impressed with his lesson plans and homework he assigns. He takes the time to look at her work and comment on her day."
Sarah L
Lakeville
Read Reviews from Others
or Share Your Own!
Pay Online
Pay your child's tuition through our online payment system.
Go Now
Like us on Facebook
Great things are happening
at our school.
Check it Out