Healthier with Grow Fit®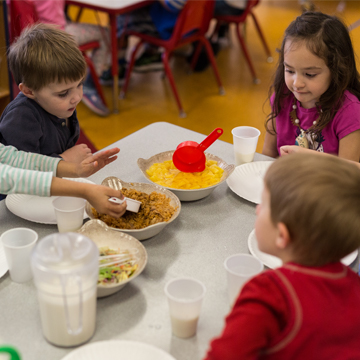 Grow Fit is our unique initiative that encourages the comprehensive well-being of your little-one through:
Healthy Living | Nutritious Eating | Physical Fitness
Tutor Time has joined forces with the Partnership for a Healthier America with the goal of guiding children's healthy habits, so that they may have a healthy future!
Our program goals include:
Physical activity: 1-2 hours daily with outdoor play, weather permitting.
Limited screen time: At school, less than 30 minutes weekly. At home, we recommend a maximum of 1-2 hours/day of quality screen time. For children ages 2 or younger, we don't recommend any screen time.
Food: Veggies or fruits at least twice per day. Family style meals. No fried foods.
Beverages: Water, whenever. No sugar-sweetened drinks. For ages 2+: low- or non-fat milk.
Infant feeding: We're here to support your decisions. Breastfeeding moms can provide milk and are welcome to breastfeed during school time.
Health risks linked with unhealthy food choices and a lack of physical activity have significantly increased in the United States. Studies show that by age 6, one in five children is either obese or overweight.
We offer an assortment of nutritious options during meals and snacks, and we encourage kids to taste new foods. You're welcome to try them too! Just ask your school director.
Veggies Early and Often
We're on a mission to help raise the next generation of veggie lovers. Did you know only 10% of children in the U.S. consume the daily recommended amount of vegetables? That's why our school has partnered with the Veggies Early and Often campaign led by PHA. Here's what we're doing:
We've added more vegetables to our menus.
We now offer two vegetables at lunchtime, each Friday.
We provide vegetable options for infants at breakfast and snack.
We encourage children to try new flavors, more than once!
In total, 26 different vegetable varieties appear on our children's menu!
A Healthy Home
So, how can you help work toward a healthier future?
Here are easy ways to begin today. Get your children fired up about healthy choices and stay healthy at home, as a family!