Positive Behavior Support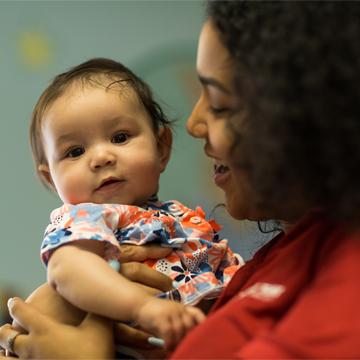 All children at times exhibit challenging behavior. Challenging behavior can range from defiance to aggressive behavior to using words to hurt. Challenging behavior happens because a child does not yet have the social, emotional, language, and cognitive skills to behave in more positive ways. We know that challenging behavior and positive behavior are two sides of the same coin!
Our responsibility as teachers of young children is to use challenging behavior as a learning opportunity for children. We can teach children the skills they need to behave in positive ways through responding to challenging behaviors. We can also prevent challenging behaviors by setting up the classroom environment and daily routine in ways that are developmentally appropriate and engaging for the age of the children in the classroom.

This is called Positive Behavior Support and this is what we do at Tutor Time. We have many tools in the classrooms that reinforce positive behavior support, including the new myPath app. myPath is our proprietary Tutor Time iPad-powered application designed to empower teachers to manage challenging behaviors and create a positive learning environment.


How does myPath help with Positive Behavior Support?
The myPath strategies give teachers age-appropriate ideas for how to teach social, emotional, cognitive, and language skills that help children behave in positive ways.
The myPath strategies are based on the most current research about children's social-emotional development.
myPath allows teachers to find strategies that target a child's specific behavioral and developmental need.
myPath provides teachers with innovative and novel strategies to encourage positive behaviors during each time of the day.