Our Tutor Time Teachers
Exceptional Education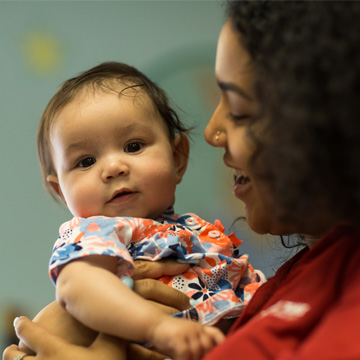 The foundation of a strong early education begins with teachers. That's why the teachers of Tutor Time are well trained, highly motivated, and highly responsible professionals.
Our customized assessment helps us find and select the most highly trained teachers and care staff. This validated pre-hiring assessment identifies high-quality candidates. This tool is unique to our school and to our knowledge, no competitors use anything like it.
We vet our staff thoroughly by way of checking references, conducting background checks based on state and/or local licensing requirements, including fingerprinting, criminal background checks, and verifying educational credentials. Any candidate who will transport children must undergo a thorough driving history check, followed by annual checks after that.
Why do we do all this? To protect the most valuable part of our school: your child.
After teachers are hired, they complete extensive training that provides a comprehensive understanding of our standards and curriculum, as well as insight on child care and approaches to child-development. Here, they are immersed in our LifeSmart curriculum and explore how to apply the Multiple Intelligences theory to promote learning. Afterward, they continue to engage in ongoing training to ensure they're maintaining and exceeding all educational standards.
Cycle of Intentional Planning
Our approach to teaching is founded on a Cycle of Intentional Planning. This process uses observation and assessment to shape the teacher's lesson planning.
This customized curriculum, based on observation and assessment, means our teachers are:
Engaging the interests of the children while meeting their needs
Targeting emerging skills
Developing a lesson plan built specifically for the children in that classroom
Our high-quality educators and their ability to customize lessons to each student will ensure that your child is ready for school and a lifetime of success.
Why Assessment Matters
The foundation for a quality early childhood curriculum is accurate assessment. To make assessments that truly reflect their capabilities, children are observed while they work, learn, and play. These observational assessments allow teachers to understand where a child is on their educational path. That way, lessons can be created and targeted to their exact needs.
This method empowers teachers to best understand the children in the classroom. This also allows teachers to better get to know their students in other ways too. While they're paying such close attention, they learn more about their personalities and interests.
Consistent, accurate assessments ensure developmentally appropriate lesson plans. By tailoring lessons to children's up-to-date developmental needs, the classroom environment becomes more engaging and comfortable for children to grow and learn.