Our Educators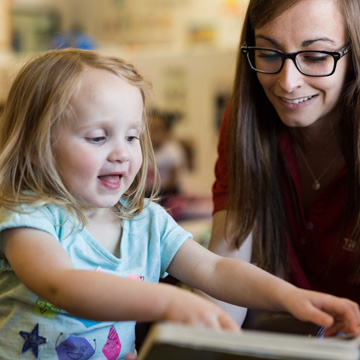 Effective teaching is both an art and a science. That's why Tutor Time supports educators as they create and implement inspiring, developmentally appropriate, and sound curriculum. We're proud to provide a robust variety of professional development opportunities to our educators. This, in turn, ensures the highest quality educational experience for your child.
Tutor Time's Learning Management System: This online professional development tool provides the most up-to-date training on child development and best practices in the classroom.
Child Development Associate Credential (CDA): In partnership with the Council for Professional Recognition, we offer a CDA Preparation Program to support our teachers seeking their CDA Credential. All teachers can earn this nationally recognized credential through our online courses on the Learning Management System.
Master Teacher Program: After earning their CDA credential, teachers can take the next step in their professional development by enrolling in the Master Teacher Program, which provides advanced courses in child development, assessment, and curriculum implementation techniques. Once a teacher graduates from the program, they serve as mentors to new teachers.
School Education Manager Program: Our best educators can master their future—and become curriculum experts—by training to be School Education Managers (SEMs). SEMs participate in an ongoing professional development program through which they learn to observe and evaluate classrooms, as well as coach and mentor fellow teachers.