Our Approach
An Individualized Education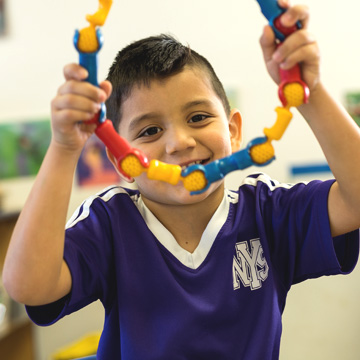 At Tutor Time, every child's individuality is used to his or her advantage in the way they learn, grow, build self-esteem, and develop their imagination. Our approach nurtures every aspect of a child's development. That's why our curriculum is inspired by the Multiple Intelligences theory of learning and education, built on the belief that children learn and understand in different ways. Our approach highly values the variety of ways in which children learn, and provides opportunities for children to develop their minds and abilities through different approaches, materials, and experiences.
We also know early education is not a one-size-fits-all experience. That's why we created the School Readiness Pathway, to provide educational options, empowering parents to choose the best fit for their child's abilities, strengths, and needs. You'll find individualized lesson plans in each classroom, in every school, targeting the specific skills the children in that class are ready to learn. The result: customized early education that's perfect for your child.
Because we developed it just for them.