West Bloomfield, MI Daycare
6799 Daly Road, West Bloomfield, MI 48322
Welcome to Tutor Time of West Bloomfield, MI
Hello! My name is Amber Stratton and I am the director here at Tutor Time educational daycare in West Bloomfield, MI. I have a bachelor's degree in elementary education and have been with the company since September 2002.
At Tutor Time, we offer
infant child care
,
preschool
,
private kindergarten
and other programs that provide the perfect foundation for learning and child development. Our school is accredited by the NECPA program (National Early Childhood Program Accreditation). We pride ourselves on this honor because NECPA holds us to higher standards than the State of Michigan's Child Daycare Licensing Standards.
We have a very warm and inviting school! It's like we have our own family here at Tutor Time. This family here in West Bloomfield includes our teachers, children, their families, and hopefully you too! We maintain an open-door policy, so you can feel free to stop by and talk anytime that is convenient for you. Our goal is to develop strong relationships with all of our families so we can give the most nurturing environment possible for your children.
Our school has a very strong team of teachers. They are all dedicated to provided a safe, loving, and educationally-sound environment for all of the children in their care. Our teachers love the children as if they were their own! Our lead teachers all have degrees or certifications in child-related fields and all teachers receive monthly training.
We offer many great programs in our school from infants all the way up to school-age, including Montessori! We also offer several enrichment classes for the children to participate in each day to further enhance the learning!
Please schedule a tour today to check out all of the great things our Tutor Time educational daycare in West Bloomfield, MI, has to offer! We would love to have your family join ours!!
We are accredited by
Accreditation by a nationally recognized organization is an important certification. It means our school employs "best practices" in the social, emotional, physical, language and cognitive development of children.
A Day In The Life Of Our Students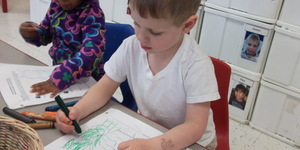 Learn more about how Tutor Time develops every child's unique interests and abilities through hands-on active learning. It's a fun day. It's an educational day. All in a safe, nurturing environment.