Upland, CA Daycare
1001 East 16th Street, Upland, CA 91784
Welcome to Tutor Time of Upland, CA
Welcome to the Tutor Time educational daycare in Upland, California! My name is Wendy Leath and I am the Director. As a director for the past eight years, I have come to recognize the incredible teachers and families that attend here. I have many years of experience in child care along with education in Early Child Development.
I have a strong appreciation for the knowledge and dedication involved in child care. I enjoy being a part of the community and extended this appreciation to families who may not know us yet, and the quality care we provide.
At Tutor Time, we offer
infant child care
,
preschool
,
private kindergarten
and other programs that provide the perfect foundation for learning and child development. The exceptional group of teachers I work with are fully qualified with CPR and first aid training. Most of our staff has been here since we opened. We have a great cook with her food-handling license, and two fully qualified bus drivers.
Our School has an excellent security system. Our doors are always locked; each parent has a different security code to enter our facility. Our school also has cameras set up in each classroom so that we can keep an eye on our students.
Our school opened in 1998 and we're proud to be a part of the Upland community. I'd like to personally invite you a for a tour to learn about everything that our Tutor Time educational daycare in Upland, CA has to offer your family.
We are accredited by
Accreditation by a nationally recognized organization is an important certification. It means our school employs "best practices" in the social, emotional, physical, language and cognitive development of children.
A Day In The Life Of Our Students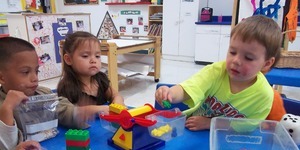 Learn more about how Tutor Time develops every child's unique interests and abilities through hands-on active learning. It's a fun day. It's an educational day. All in a safe, nurturing environment.