Santee, CA Daycare
9440 Cuyamaca Street, Santee, CA 92071
Welcome to Tutor Time of Santee, CA
Thank you for visiting Tutor Time Learning Center in Santee, CA! My name is Julie Meyer and I am the director at our amazing school. With 17 years of experience in early childhood education with the Learning Care Group, I am confident that I have what it takes to run one of the best schools in our community. I am dedicated to our families, children and staff.
At Tutor Time, we offer
infant child care
,
preschool
and other programs that provide the perfect foundation for learning and child development. I love the family feel of our center and the bonds we develop with the parents and children. We get to be such an important part of each child's education and life.
I'm especially proud to say that our school is nationally accredited by NECPA (National Early Childhood Program Accreditation). We received the award in August of 2008 and have since then been re-certified in November of 2011. The standards that we follow are higher than those set by California State Licensing.
My staff here in Santee is highly trained – every member has taken at least four college-level courses, and most have earned either an associate's or bachelor's degree. Every one of us continues our education with monthly staff meetings, relevant articles and access to the newest information on early childhood education. It's a testament to the quality of our teachers.
I'd like to personally invite you in for a tour of our fantastic facility. I think once you see how much Tutor Time daycare in Santee, CA has to offer, you'll know this is the right place for your child.
License #376600933, 376600934, 376600935
We are accredited by
Accreditation by a nationally recognized organization is an important certification. It means our school employs "best practices" in the social, emotional, physical, language and cognitive development of children.
A Day In The Life Of Our Students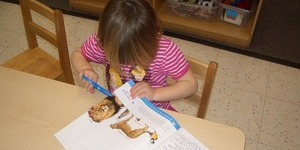 Learn more about how Tutor Time develops every child's unique interests and abilities through hands-on active learning. It's a fun day. It's an educational day. All in a safe, nurturing environment.