Portage, MI Daycare
6500 Constitution Blvd, Portage, MI 49024
Welcome to Tutor Time of Portage, MI
My name is Debbie and I am the Director of our wonderful Tutor Time educational child care in Portage, MI. I have been with the company since 2004 and I look forward to each day spent with our children. I attended Western Michigan University where I graduated with a bachelor's of science degree in elementary education. Prior to assuming the director position, I was a lead teacher at the
preschool
and pre-K levels.
At Tutor Time, we offer
infant child care
,
preschool
and other programs that provide the perfect foundation for learning and child development. Our school is in the process of renewing our accreditation with NECPA (National Early Childhood Program Accreditation.) We originally received the award in December of 2009 and we continue to meet their accreditation standards. The standards we follow are higher than the State of Michigan's Child Daycare Licensing Standards.
We run our school here in Portage with great integrity and treat each family as if it were our own. We all strive to make each child and parent feel welcome in our environment. We work to ensure that each child's needs are met and every question is answered.
All of our staff are CPR and First Aid certified and maintain those certifications every year. Our staff has a long tenure in the early childhood education industry with over 100 years of combined experience.
Tutor Time in Portage is like none other. We offer a curriculum that works each day to set your child up for success on our "Pathway to School Readiness." We also offer extra programs to help the diverse learner. We partner with our families to ensure they are involved and excited every day their child is with us.
Schedule a tour of our fantastic Tutor Time educational daycare in Portage, MI today! We look forward to meeting your family.
We are accredited by
Accreditation by a nationally recognized organization is an important certification. It means our school employs "best practices" in the social, emotional, physical, language and cognitive development of children.
A Day In The Life Of Our Students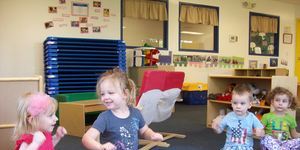 Learn more about how Tutor Time develops every child's unique interests and abilities through hands-on active learning. It's a fun day. It's an educational day. All in a safe, nurturing environment.