Pittsburgh, PA Daycare
6031 Baptist Road, Pittsburgh, PA 15236
Welcome to Tutor Time of Bethel Park, PA!
Thank you for visiting Tutor Time educational daycare in Bethel Park, PA! My name is Rachelle and I am proud to say I am the director of this wonderful school. I have a Master's degree in Education and currently working towards the completion of my Doctoral degree in Education: Curriculum and Instruction with a focus on Early Childhood Education. In addition to my extended degrees, I have several years of experience as both a teacher and manager of child care.
Tutor Time offers
infant child care
,
preschool programs
and more. I manage this school as if everyone here is an extension of my own family. I strive to create a warm and nurturing environment creating an open-door policy for anyone who would like to talk. I also encourage our families to develop lasting relationships.
I find it rewarding when I hear children excitedly about their learning day at Tutor Time, expressing to their parents about their day and how much fun they had with their teachers and friends. We are very fortunate to have a wonderful staff who treat each and every child as if they were their own.
Our staff are dedicated to providing a warm, nurturing, and learning environment for the children and they take their jobs as early childhood educators very seriously. All of our lead teachers have at least bachelor's degrees and all of our teachers receive extensive professional development training.
We value the relationships we have with our families and have ongoing activities to involve them. At any time throughout the day, parents are welcome to visit their child's classroom and become involved with the daily activities. It is truly a wonderful way for the parents to know what their child does on a daily basis and what they are learning.
Schedule a tour of our amazing Tutor Time educational daycare in Bethel Park, PA today! We look forward to meeting your family, and introducing you to ours!
A Day In The Life Of Our Students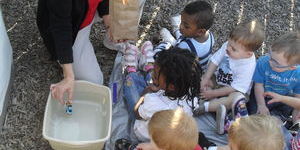 Learn more about how Tutor Time develops every child's unique interests and abilities through hands-on active learning. It's a fun day. It's an educational day. All in a safe, nurturing environment.