Cypress, CA Daycare
5805 Corporate Avenue, Cypress, CA 90630
Welcome to Tutor Time of Cypress, CA
I'd like to take this opportunity to welcome you to Tutor Time in Cypress, CA! My name is Bernadette Alvarez and I am the director. I have a Early Childhood Education Certificate and 52 early childhood education units. I have more than 17 years of experience working with children, and I love that I am able to play a role in creating lifelong learners!
Our educational daycare opened in 2003 and provides children with a nurturing and supportive environment in which to grow, play and learn. Our
infant child care
,
preschool
, and other programs provide the perfect foundation for learning and child development. We have an incredible staff who are dedicated to teaching and providing the highest-quality early childhood education.
Our teachers here in Cypress have individualized lesson plans to accommodate the needs of our children while providing stimulating activities to keep learning fun. They understand the trust that families place in them every day and they take their responsibility as caregivers and educators very seriously. Our teachers stay current with monthly training sessions and ongoing training offered by the state.
I'm confident that we offer the best programs in the area because of our dedicated staff. Call and schedule a tour today to see why our daycare in Cypress, CA is the finest early childhood education provider you can select for your child.
We are accredited by
Accreditation by a nationally recognized organization is an important certification. It means our school employs "best practices" in the social, emotional, physical, language and cognitive development of children.
A Day In The Life Of Our Students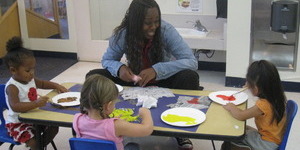 Learn more about how Tutor Time develops every child's unique interests and abilities through hands-on active learning. It's a fun day. It's an educational day. All in a safe, nurturing environment.