Armonk, NY Daycare
73 Old Route 22, Armonk, NY 10504
Welcome to Tutor Time of Armonk, NY
My name is Christina Greene and I am the director at Tutor Time educational daycare in Armonk, NY. I'm delighted to welcome you to our school! My favorite thing about being a director is watching the children learn and grow. It's priceless to see the joy in their faces when they master a new skill or excitedly recite something they have learned.
I also love the relationships I have built with the families and staff throughout the years. There is no better feeling then to see that together, we can make a difference in the lives of the children and families we care for.
Located on a quiet street, our school is full of windows, allowing natural light to shine through. Once inside, you will find yourself in one of the most warm and welcoming places around. We are next to a nature preserve, so while playing outdoors, looking out the window, or riding in our buggies, our children get to see different kinds of trees, birds, and other wildlife.
Our school here in Armonk was established in 1995, and our teachers and staff take great pride in presenting Armonk with the highest caliber of child care and early childhood education. We offer
infant child care
,
preschool programs
, and are nationally accredited by NECPA (National Early Childhood Program Accreditation). The standards we follow are higher than the State of New York's Daycare licensing standards.
I'm confident we offer the best programs in the area because of our experienced and dedicated staff. We value our relationships with our families and know that our facility will provide your child with the tools and skills they need to succeed. Our families choose us for our teachers – they are without a doubt the best in the industry. They understand the trust our families place in them every day and they take their responsibility as caregivers and educators very seriously.
We would love the opportunity to show you our Tutor Time educational daycare in Armonk, NY. Call us today to schedule a tour!
We are accredited by
Accreditation by a nationally recognized organization is an important certification. It means our school employs "best practices" in the social, emotional, physical, language and cognitive development of children.
A Day In The Life Of Our Students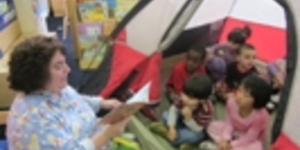 Learn more about how Tutor Time develops every child's unique interests and abilities through hands-on active learning. It's a fun day. It's an educational day. All in a safe, nurturing environment.