Anaheim Hills, CA Daycare
350 S. Festival Drive, Anaheim Hills, CA 92808
Welcome to Tutor Time of Anaheim Hills, CA
Welcome to our Tutor Time educational daycare and
preschool in Anaheim Hills
, CA! My name is Amber and I am the director. I would like to take this opportunity to tell you how the people and programs at our school make it an exceptional place for early education. I bring over 15 years of experience in the early childhood education field, both as a teacher and director. I take great pride in watching the amazing growth in the children as they progress through our school, and in building personal relationships with each family.
We have a wonderful group of teachers on our staff. Over half of our teachers have been at our school for more than five years and, together, they have over 25 years of experience in the field. All of our teachers receive monthly training and participate in ongoing training offered through the state. We also have an on-site, certified chef who prepares nutritious meals made from scratch.
Our school here in Anaheim Hills is designed to accommodate each age group in a separate classroom so children have developmentally appropriate toys and equipment. Our Tutor Time daycare offers
infant child care
, preschools programs and
private kindergarten
. We also offer an indoor play area where children can sing and dance, play dress-up or just explore their surroundings. We also have outdoor playgrounds designated for each age group.
Since our school opened in 1998, we have provided a warm and welcoming learning environment for children. We remain committed to providing your family the best educational experience possible. Call us today to schedule a tour of our spectacular Tutor Time educational daycare and
preschool in Anaheim Hills
, CA!
We are accredited by
Accreditation by a nationally recognized organization is an important certification. It means our school employs "best practices" in the social, emotional, physical, language and cognitive development of children.
A Day In The Life Of Our Students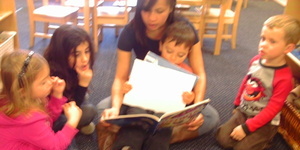 Learn more about how Tutor Time develops every child's unique interests and abilities through hands-on active learning. It's a fun day. It's an educational day. All in a safe, nurturing environment.